The latest and greatest technology is always something that we here at simply online love to keep our eyes on. Right now, cellular security cameras are becoming increasingly popular, and one of our most selling products has a 4G internet connection. However, 4G is not always the solution.
sometimes you just need a good old Wi-Fi connection! If you're looking for a new solar-powered WiFi camera, this article will give you an overview of the pros and cons of this type of device. We'll also provide some tips to help you get the most out of your purchase.
A completely wireless Solar WiFi Bullet Camera is an outdoor camera powered by the sun, and Honestly, this gives a futuristic vibe to this surveillance technology. It has a rechargeable battery and can capture incredible 1080p image quality. The solar panel on the camera powers the battery, and the battery powers the camera. This makes it a great choice for those who want to be able to use their camera without having to worry about batteries or charging.
Solar Power Bullet Wifi Camera
The new Solar WiFi Bullet Camera is a small and compact camera that can be placed anywhere. It has wi-fi capabilities and night vision, making it perfect for monitoring your home or business. Solar power ensures that the camera will always have a charge, and motion detection means that you won't miss a thing.
Extra Solar Panel for Solar WiFi Bullet Camera
Solar panel CCTV security cameras are an excellent choice for rural and remote locations where power is not readily available. These cameras rely on solar panels to capture and store energy from the sun, which is then used to power the camera. an Extra solar panel for Solar WiFi Bullet Camera offer a number of benefits, including the ability to operate in locations where bad weather stop the embedded solar panel to get some juice.
The best solar security camera for your needs
Solar security surveillance systems are a great choice for many people, as you can install them anywhere, without having to worry about running wires. Solar charging also means that you do not have to worry about power outages or someone messing with your camera cables, as the camera will charge itself during the day and it's wireless.
There are many different types of solar security cameras available, from massive solar cameras to compact PTZ solar cameras. The type of camera you choose will depend on your specific needs. For example, if you need a camera for outdoor use, then you will need one that is weatherproof, robust, and has night vision.
One of the most important things to consider when choosing a solar security camera is its resolution. Most cameras nowadays offer 1080p Full HD resolution, which is more than enough for most people. However, if you need an even higher resolution, then there are some models that offer 4MP or 8MP and they even come with 20X optical zoom.
The Solar WiFi Bullet Camera is a great choice for monitoring outside of your home. These cameras are more affordable and compact, so they can be placed almost anywhere. they also come with an extra panel option, making them a great choice for monitoring your garage or backyard.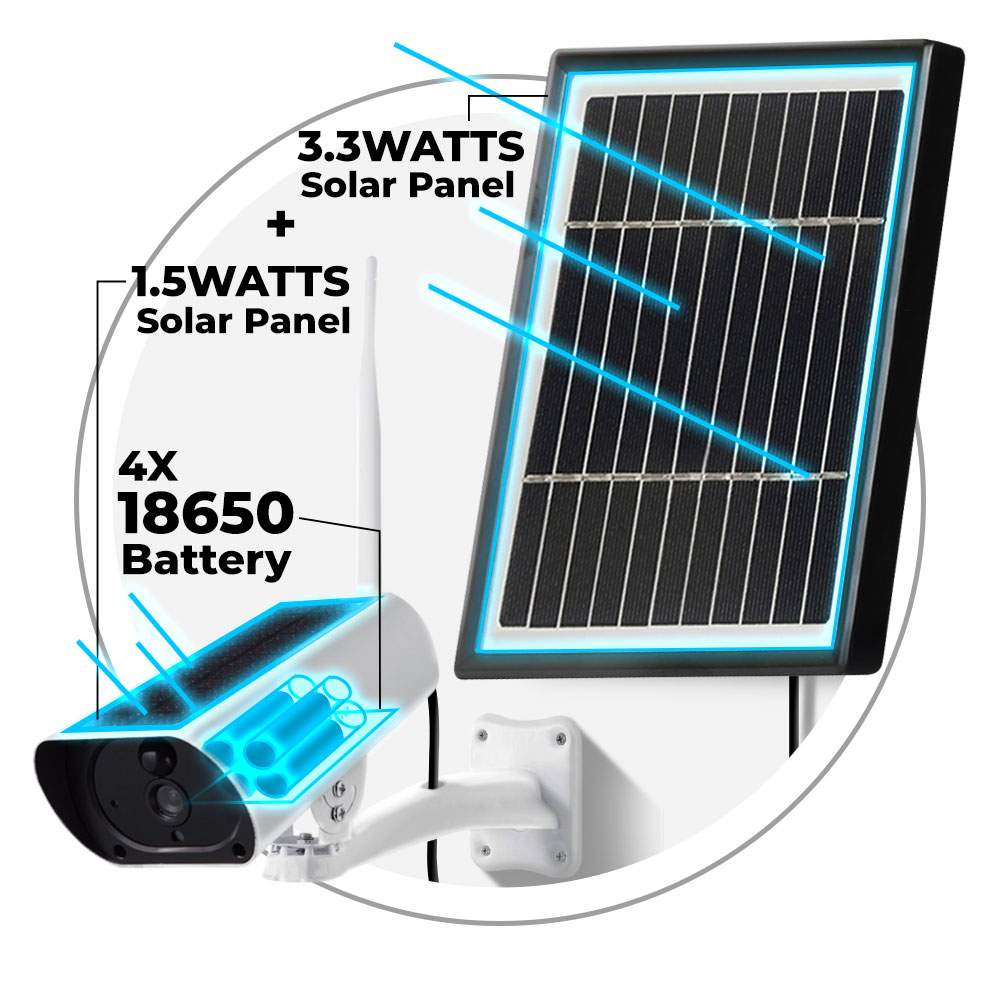 Designed for outdoor use
A security camera designed for outdoor use needs to be weatherproof and able to connect to Wi-Fi or 4G. It also needs to be able to see in the dark and have a good field of view. You may want to put it near your front door or in your yard or garage, We suggest mounting the cameras high up, out of reach. Since they don't need wires, you won't have to fiddle with them after installing them. You're pretty much done! But Before installing the camera just check your wifi connection and mounting spot.
My property is very large and I'm not sure if the Wi-Fi signal can reach the camera!
There's no need to worry about whether or not the Solar WiFi Bullet Camera will work at your desired location – simply open up your phone and check the speed and internet connection in the area. If you're getting a high speed and normal latency, then the camera should work just fine (although every device's Wi-Fi connectivity is different, so it's always best to double-check).
The other solution is choosing a 4G camera if you have a poor Wi-Fi internet connection. 4G solar bullet cameras are designed for these exact situations. These cameras can really help you when Wireless Connection is poor, or you have no good cable internet in an area, like farms, construction sites, or warehouses.
If you're struggling with something, know that there is help available. Our team is always happy to offer suggestions and support.
Easy installation is really important!
The Solar WiFi Bullet Camera is very easy to install and set up. We have video guides on our website that show you step-by-step how to do it. This security camera is perfect for your home or business.
How to set up solar wifi bullet camera
Here are the steps to set up your wireless camera:
1. Power up the camera.
2. Connect the camera to your phone via The APP.
3. Install/mount the camera on the wall using the provided screws and wall plugs.
4. Connect the extra solar panel to the camera (if provided).
5. You are now ready to use your solar wifi bullet camera!
We have a "how to connect" page with in-depth, step-by-step video guides.

Solar wifi bullet camera manual comes with the product, You can always check this manual for your specific camera.


Some Key Features!
Get Remote Access Anywhere Anytime
With so many things to keep track of, it's easy to miss something. But with a camera that you can access remotely, you can check in on what's going on even when you're not there. And with solar-powered cameras, you don't have to worry about battery life. Just set up your battery powered camera and connect it to your phone.
Control Your Cameras, Hands-Free
Control your cameras, hands-free: There is no central security system or DVR needed, only an app. The Solar Bullet Security Camera is a great way to keep an eye on things while you're away.
Two-Way Audio, Hear & Talk Back
With Two-Way Audio, you can hear what's going on around your camera, and talk back to whoever is there. This is a great way to stay connected to your home or office while you're away and keep an eye on things.
PIR Sensor, Night Vision & Instant Alerts
The Infrared PIR Sensor is a great way to keep your home or office secure. It can detect human movement within a certain range, and then send an instant alert to your android or iOS device. You can also access remote monitoring with this camera, so you can see what's going on and get a notification when the motion sensor Is triggered even when you're not at home.
Night vision is an excellent feature of these cameras. It allows you to see in the dark and capture images or footage that would otherwise be invisible. you can use it to see what is happening in complete darkness, which is certainly a great advantage for you.
Most importantly, this camera comes with a very affordable price tag, making it one of the best options on our list. You will be able to stay comfortable knowing that your home or office is well protected without having to spend an arm and a leg.
Should you use cloud storage or storage on the SD card?
There is no one-size-fits-all answer to this question, as the best storage solution for you will depend on your specific needs and preferences. However, in general, cloud storage may be a better option than storing files on an SD card if you need to access your files from multiple devices, or if you are concerned about losing data due to physical damage to the SD card. On the other hand, SD cards can offer faster data transfer speeds and may be a better choice for storing large files or for use in applications where data security is a major concern.
We have reached the end of our post, and we hope you have found what you were looking for in this article. If not, feel free to check out some more posts and products on our website because there are plenty more great products available out there. But if you did find Solar WiFi Bullet Cameras useful, then congratulations; we would like to suggest the product below as your final decision

Low Power Solar WiFi Bullet Camera Prices :