Over 4 Star Reviews on all of our products:
We love our customers and we're thrilled to hear that they love us too! Here are some kind words in regard to our products and the quality of them:
Sarah Jane

Read more
I have the model before this one I think.
I use a Telstra data sim card. (My choice of provider) you can pay a years worth for around $130 a year or monthly at $30.
I got the 40 gb card. In two years I'd be lucky to have used 10gig. But the more you use it the more data you need.
It will operate live to the app if it's placed in an area where your phone can get data reception. (Not the same as call reception where it will operate with one bar) For example, when choosing a location to install camera,
use your mobile phone to choose a location where the best DATA reception is.
Like if you can play YouTube your cam will work too.
It'd say a spot where you can get at least 3 bars.
It will work off 2, but May cut in and out at times.
It charges off solar panel. Which hasn't failed me even on cloudy and rainy days for weeks on end. So if you have any trouble shooting issue to do with battery power it may be a faulty panel because they will work and charge the cam under the poorest of conditions.
With age, the Antennas on mine fell off. They got brittle. But the camera still operates and connects to wifi in the paddock anyway.
Mine has survived 3 major storms. Of 200 Kim winds, hail and rain.
It's survived the sun. And the worst elements imagined. It still going.
Due to being Chinese made and not entirely secure privacy, use camera in places where surveillance is not encroaching on your most private areas yeah. Great for farms and Locations you need to keep an eye on activity while you're off location.
The app works fine. You can view and use it easily on your phone.
Picture quality is up there with the best.
Night vision is good too.
Has two way communication via camera, so it you see someone walking past your camera you can talk to them via the app.
The camera swivels around almost 200 or more degrees. So you can see all around the place. You can zoom in from far away, but off course it may pixelate from long distance.
Overall for the price, it's good value for basic surveillance.
Review on
Sharni Harvey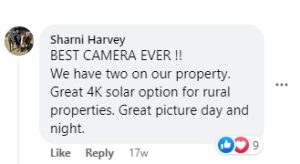 Review on
Thomas Kavanagh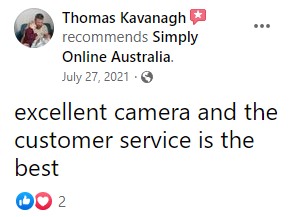 Review on
Wayne Cockburn

Review on
Chris


Review on Feedback
Paul Bright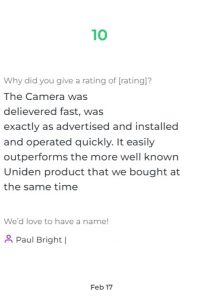 Review on Feedback
Sam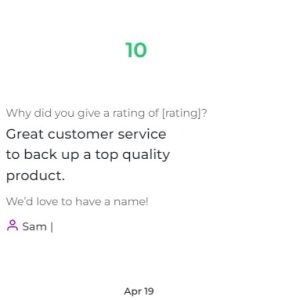 Review on Feedback
Sharni Harvey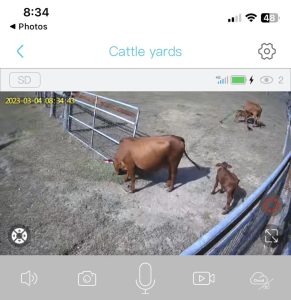 Review on
David Strickland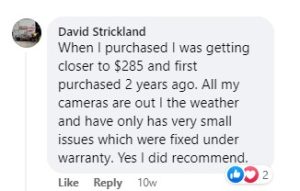 Review on  
Ari Labunda
Review on Trustpilot 
Jon Russell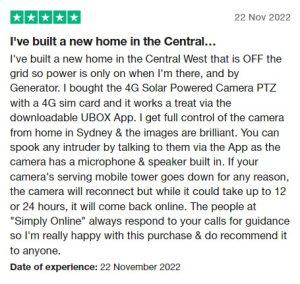 Review on Trustpilot 
Brendan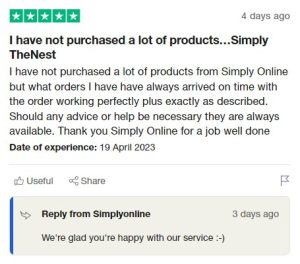 Review on Trustpilot 
David Strickland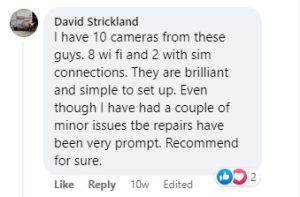 Review on
Emilia
I ended up canceling my order, they were really respectful and refunded me, very quickly. just wanted to thank them. I will buy one from them once my situation gets sorted out.
Review on
Jackson
Well, I had a tiny ring camera before, really impressed with this 4g camera. recommend it, Cheers.
Review on
We are proud of the products and services we provide and are committed to providing our customers with the best possible experience. Our team is dedicated to ensuring that our customers are satisfied with their purchases and that they receive the support they need. 💛
Please let us know if you have any questions 😊