The 5MP WiFi Outdoor Security Camera is a top-quality security camera that offers excellent image quality. This camera provides a clear and crisp image, making it perfect for security purposes. Additionally, the camera's wifi capabilities make it easy to connect to the internet and view live footage.
Key Factors to Consider when Choosing a 5MP WiFi Outdoor Security Camera
Choosing a 5MP WiFi Outdoor Security Camera can be a daunting task, given the plethora of models available on the market. However, by focusing on several key features, you can find a camera that best suits your needs.
Resolution and Image Quality: The primary reason to choose a 5MP camera is for its superior image quality compared to lower resolution cameras. Make sure that the camera you choose offers true 5MP resolution. Look for cameras that also have good night vision capabilities, ensuring clear images even in low-light conditions.
Connectivity: Since the camera is WiFi-enabled, it's vital to check its compatibility with your existing network. Ensure that the camera supports the WiFi standard (e.g., 2.4GHz or 5GHz) used by your router. Some cameras may also support dual-band WiFi for greater flexibility.
Weather Resistance: As an outdoor camera, it needs to be robust enough to withstand varying weather conditions. Check the camera's IP (Ingress Protection) rating. An IP66 or IP67 rated camera is usually suitable for outdoor use as it offers protection against dust and water.
Motion Detection and Alerts: Look for a camera with advanced motion detection capabilities. The best cameras can differentiate between general movement and potential security threats, reducing false alarms. Some cameras might also offer customizable motion zones, enabling you to monitor specific areas more closely.
Storage Options: Consider how the camera stores recorded footage. Does it support local storage (e.g., microSD cards), cloud storage, or both? Local storage can be a cost-effective solution, but cloud storage provides additional flexibility and accessibility.
Power Supply: Check how the camera is powered. Is it wired or does it use rechargeable batteries? Wired cameras offer consistent power supply but might be harder to install, while battery-powered cameras offer more installation flexibility but require periodic charging.
App Support and User Interface: Check the manufacturer's app, as this is likely where you'll interact with the camera most. It should be user-friendly, allowing easy live viewing, playback of recorded footage, and adjustment of camera settings.
Integration with Other Devices: If you have a smart home system (like Google Home, Amazon Alexa), ensure the camera you choose is compatible for seamless integration.
By paying attention to these features, you should be able to select a 5MP WiFi Outdoor Security Camera that meets your specific needs, ensuring you have a robust and reliable security system in place.
What Do You Need An Outdoor Security Camera For?
An outdoor security camera is a great way to deter criminals and keep your home safe. If you have a yard or garage, an outdoor security camera can help you keep an eye on things. Outdoor security cameras are also a good way to monitor visitors or deliveries when you are not home.
The Best Outdoor Security Cameras Available to Buy Today in Australia
If you're looking for the best outdoor security cameras in Australia, look no further than the Wifi 5mp camera. This camera is great for home security thanks to its night vision and motion detection features, and it's also perfect for outdoor use thanks to its weatherproof design. Plus, with its 5mp sensor, you'll be able to capture high-quality images and videos of any activity taking place outside your home.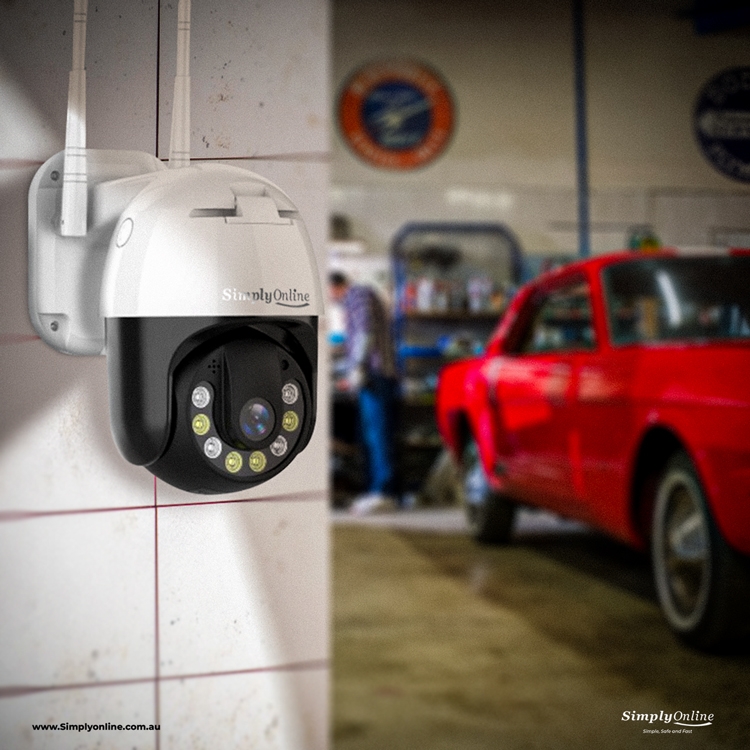 5MP WiFi Outdoor Security Camera Features:
Optical zoom 5mp security cameras are easy to install and have a high-quality lens for clear images. Two-way audio allows you to communicate with people on the other side. Wifi enables you to connect to the internet for live streaming. IP65 waterproof means that the cameras can be used outdoors in most weather conditions. SD card support up to 128GB allows you to store a lot of footage.
Easy to Install and Set up
Our security cameras are easy to install and set up, and we have video guides on our website to help you.
2-Way Audio
When it comes to home security, one of the best features to look for in a security camera is two-way audio. This allows you to hear what's going on around the camera, and also talk through the camera to anyone who is within range. This can be a great way to deter burglars or intruders, as they will know that you are aware of their presence.
Another great feature to look for is wifi connectivity, as this allows you to access your camera's feed from anywhere in the world. 5mp outdoor cameras are also becoming increasingly popular, as they provide high-definition footage. WiFi security cameras are also a great option, as they are easy to install and can be placed almost anywhere in your home. Motion detection is another important feature, as it allows the camera to start recording automatically if it detects any movement.
Night Vision
Most 5mp security cameras come with some form of night vision, whether it's built-in or via an IR add-on. This is because most crimes happen at night, so being able to see in the dark is a crucial part of any security setup. Night vision also allows you to keep an eye on your property 24/7, even when there's no light.
Access your 5mp wifi camera from anywhere at any time! It's like you never left
ith the "Remote Access Anytime Anywhere" feature, you can remotely access your home security system from your smartphone, tablet, or computer, no matter where you are. You can also set up motion detection (PIR human detection) to receive alerts when something is happening at your home.
Smartphone Compatible
A smartphone compatible app is one that is able to be used on either an iOS or Android device. This type of app is ready to be downloaded and used on either type of phone, making it convenient for those who have different types of smartphones.
2MP vs 5MP Security Cameras
When it comes to security cameras, the benefits and drawbacks of 2MP and 5MP lenses differ, so it's important to choose the right one for your needs.
2MP cameras have a smaller lens, which means they can't capture as much detail as a 5MP camera. However, they're still capable of taking clear images, and they're usually cheaper than their 5MP counterparts, making them ideal for indoor use cases.
5MP cameras have a larger lens, which allows them to capture more detail than a 2MP camera. This makes them ideal for outdoor use cases where you need to be able to see everything clearly. However, they're more expensive than 2MP cameras.
What to Look for When Buying an Outdoor Security Camera
There are a few things you should keep in mind when purchasing an outdoor security camera. Firstly, it is important that the camera is new and suits your needs. Additionally, you will need to decide where you want to install your outdoor camera. After that, the most important thing is, that you will need to decide whether you want a WiFi or 4G camera. Finally, you will need to decide whether you want a solar-powered or AC-powered camera.
conclusion
In conclusion, selecting the right 5MP WiFi Outdoor Security Camera involves more than just picking one at random. It's a process that requires careful consideration of various factors like resolution, connectivity, weather resistance, motion detection capabilities, storage options, power supply, user interface, and compatibility with other devices. By focusing on these features, you can ensure that you're investing in a 5MP WiFi Outdoor Security Camera that not only provides high-quality surveillance footage but also fits seamlessly into your existing infrastructure. With the right choice, this powerful tool can offer peace of mind by enhancing the safety and security of your home or business.