Massive 5MP WiFi 36X optical zoom Black + 60W 40Ah
Out of stock till 10th of Jan
Actual Optical Zoom on these cameras are 20X Optical Zoom, but in the market they known to be 36X Optical Zoom. ( in the App also you will see 36X zoom )
WiFi Solar Camera 60w & 40AH
Access
 The camera can be accessed and controlled via a mobile app, allowing users to view live footage, set motion detection alerts and adjust settings remotely. Our WiFi Solar cameras also offer features such as two-way audio communication, night vision and pan/tilt/ 36x zoom functions. One of the main advantages of using a WiFi camera is the ability to monitor your property from anywhere, as long as you have an internet connection. This makes it a popular choice for home security, as well as for businesses and public spaces such as parks or parking lots.
Wifi Connection
WiFi Connection means that the camera can connect to a wireless network (*2.4Ghz) and transmit data over the internet. It is solar powered (60w)and this allows for continuous surveillance and recording even in areas without access to traditional power sources. The solar panel converts sunlight into energy, which charges the battery and powers the camera. The large battery capacity ensures that the camera can keep running even during periods of low sunlight or cloud cover. The combination of solar power and battery backup also reduces the need for manual maintenance and recharging, making the camera a reliable and cost-effective solution for long-term surveillance needs.  *It can only work with 2.4Ghz frequency network and not on a 5Ghz frequency network. In simple terms, the device can connect only to a Wi-Fi network that operates on a 2.4Ghz frequency. 
36X Zoom
36X optical zoom, with ultra crisp Lens
Speedy Installation
Easy and fast home security setup in under 5 minutes
IP65 Weatherproof
our product is protected against multi-directional, low-pressure water jets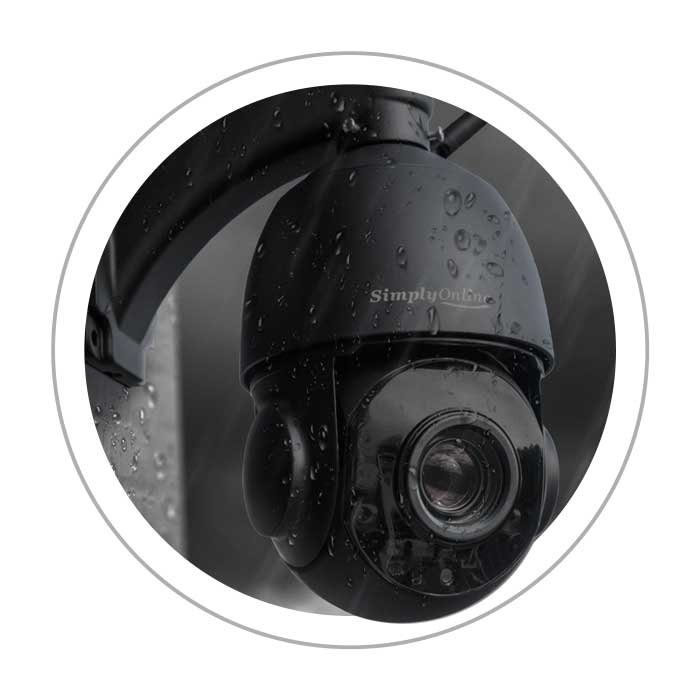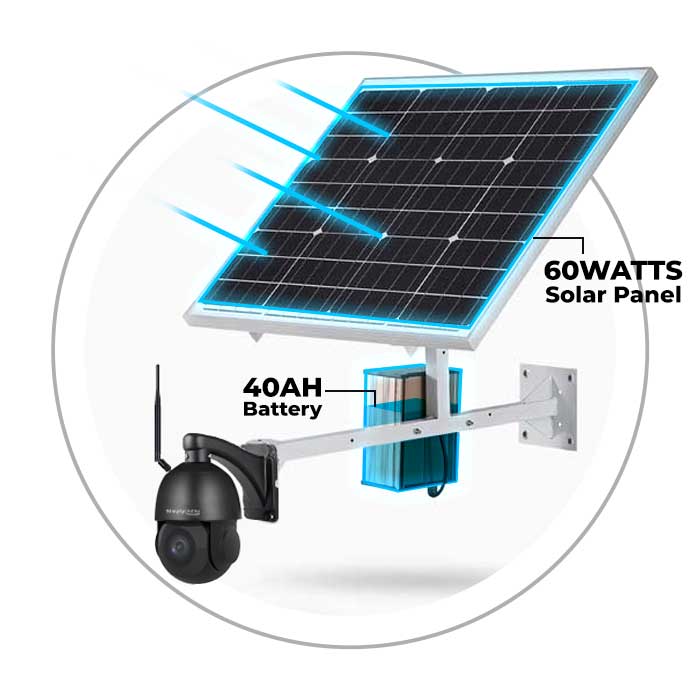 Solar Powered
24/7 Wire Free Protection, powered by the 60 Watts Solar Panel and 40AH Battery
Control at Your Fingertips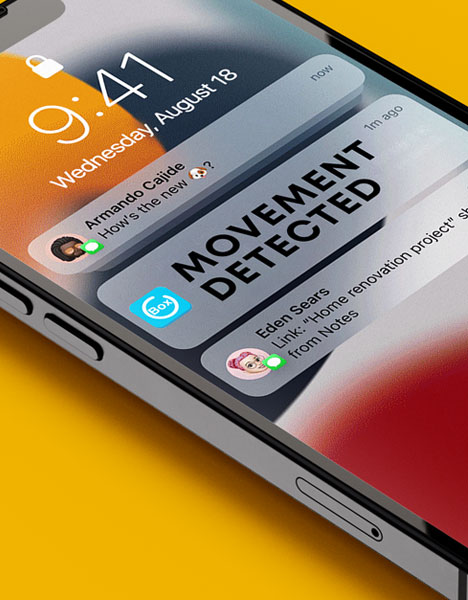 Real-Time
Notifications
---
You can receive real-time alerts when motion is detected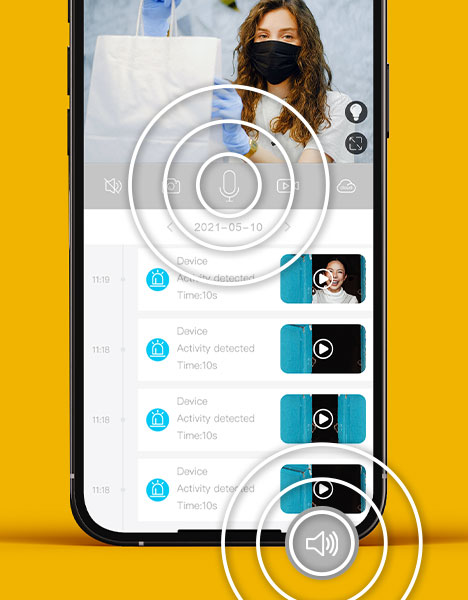 Two-Way
Audio
---
Enables you to receive and transmit audio through the camera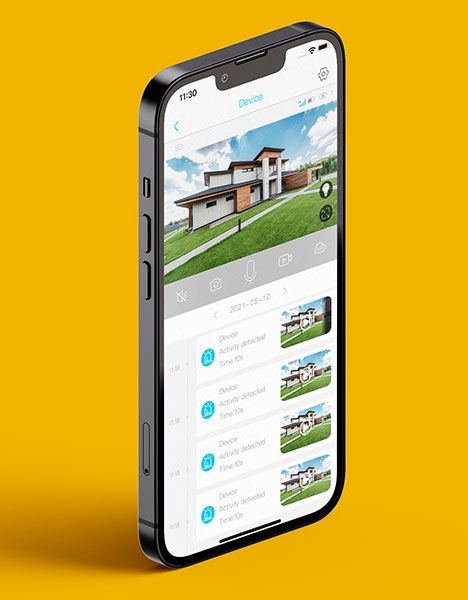 Control
your camera
---
Zoom and rotate your PTZ camera from the app, Connect your Camera with your smartphone, you can access it from anywhere
Some Frequently Asked Questions
1
How far can sensors detect?
12 Meters
2
What happens if the memory card is full?
It writes over the old footage when the memory card is full
3
What size SD card would we require?
128GB is Recommended
4
Should I remove the sd card to watch the recorded videos?
No, you can view the stored footage with the mobile apps.
5
What functions do live notifications provide?
Live notification means that you can ask the camera to notify you when there is a movement , when it does that, you can login to the camera to see what is happening.
System functions
setup and Modification

Built-in WIFI module, the partition wall can transmit 10 meters

Storage

optional TF Card ( 16G/32G/64G/128G )

Waterproof grade

IP65 (Outdoor/Indoor)

Optical zoom

36x

Infrared light

effective night vision distance 30 meters

Rotation range

0°~350° in the horizontal direction, 0°~90° in the vertical direction

Connectivity

IP/Network Wireless

Powersupply

DC 12V (2A)

Size

137mm* 222mm

Weight

1.8Kg
Audio
Audio bitrate

64Kbps

voice

1 input, 1 output
Solar Panel and Battery Specification
Solar Panel Specification
Rated power

60W

Production Tolerance

+3%

Maximum power voltage

17.56V

durable goods

25 years

Maximum power

60.46W

Maximum current

2.85A

Short-circuit current

3.45A

Open-circuit voltage

22.32V

Temperature coefficient of ISC

+0.04

Temperature coefficient of VOC

-0.38

Power temperature coefficient

-0.47

Temperature coefficient of IM

+0.04

Temperature coefficient of VM

-0.38

Temperature range

-40 ~ +85 ℃

Rated current of bypass diode

12A

Allow the load

23m/s,7.53g

Maximum surface load capacity

2400Pa

Size

590*679*30mm
Battery
Batteries

18650 ternary lithium-ion

Capacity

40Ah

Nominal voltage

12V

Charge/discharge protection voltage

12.6V/9V

Normal charging current

10A

Maximum charge/discharge current

30A

Recommended discharge temperature

-20℃ ~ 60℃

Recommended charging temperature

-5℃ ~ 45℃

Storage time

≥18 months (25℃)

Size

125*100*142mm
| | |
| --- | --- |
| Weight | 14 kg |
| Dimensions | 65 × 72 × 18 cm |
| SD Storage | No SD Card, 128 GB |