Wi-Fi Solar Cameras are a great way to keep an eye on your property without having to worry about wires or batteries. These cameras are usually weatherproof and can be mounted anywhere that gets direct sunlight. There are many different types of wireless solar cameras, the most common ones being PTZ and bullet cameras. PTZ cameras come with (pan, tilt, and zoom) capabilities, so you can remotely control the camera to get a better view of your property. Bullet cameras are also a popular type of Wi-Fi Solar Camera, as they are small and unobtrusive but still offer high-quality video footage.
How long do solar-powered security cameras last?
Solar-powered security cameras are a great option for those who want to save on energy costs. They rely on solar power to run, which means they don't add any additional costs to your monthly energy bill. However, how long solar-powered security cameras last depends on a few factors. The size of the solar panel and battery will affect how long the camera can run. Additionally, usage patterns will also impact the lifespan of the camera. If the camera is only used for a minimum amount of time each day, it will last longer than if it is in use for hours at a time. In general, solar-powered security cameras are good for days or even weeks of continuous use.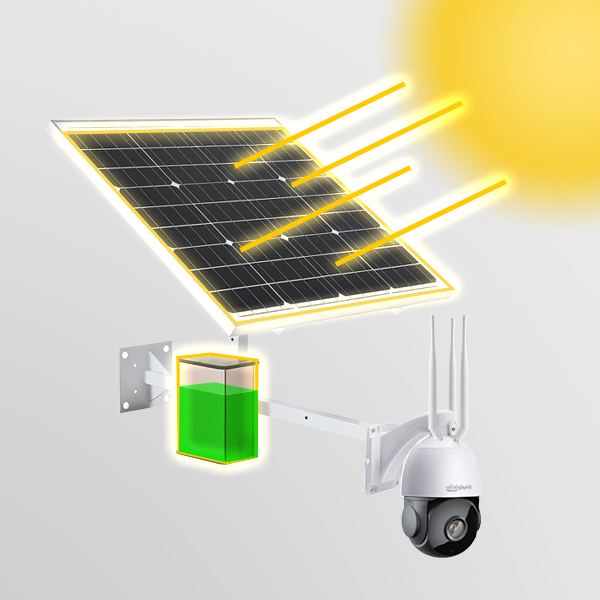 Many people wonder if they need 4G because it sounds more appealing and it costs more, but in truth, you only need 4G if you don't have good Wifi internet or you want to set up your camera in a secluded area. Another reason why someone might need a 4G camera is if they plan on moving it around frequently, something that farmers or construction managers do often.
Solar-Powered Security Cams Compared
There are many types of solar-powered security cameras on the market today. When choosing a solar-powered security camera, it is important to compare the different types and choose the one that best fits your needs. Solar-powered security cameras are a great choice for many people because they are environmentally friendly and can be placed almost anywhere.
PTZ
A PTZ Wi-Fi Solar Camera is a wire-free, battery-operated security camera that can be placed anywhere around your home or business. This type of camera is powered by an included solar panel, so it doesn't require an external power supply or any wiring. The camera has built-in Wi-Fi, so you can view live footage on your smartphone or tablet. The camera also has a PIR sensor for motion detection and can record in 1080p HD quality. These cameras are well known for their ability to move and rotate. You can use your phone to remotely control the camera's movement.
BULLET
Wifi Bullet Cameras are solar-powered and compact. We call them bullet cameras because they look like a bullet, we know it's crazy! 😁 They come in white color. these Wi-Fi Solar Cameras are incredibly easy to install, and they come with an embedded solar panel. You can always buy an additional solar panel if you want more power.
OPTICAL ZOOM PTZ
The Massive Wi-Fi Solar camera with Optical Zoom feature is a powerful and versatile security camera that is perfect for any outdoor security application. This camera features a massive solar panel that provides 24/7 Monitoring and with 20x optical zoom and PTZ (pan, tilt, and zoom) capabilities. Additionally, this camera also features a wifi function that allows you to remotely control the camera from anywhere in the world. Additionally, this camera also features a motion sensor that can detect intruders and automatically capture high-quality images or videos of them. This camera is available in both 5MP and 8MP versions, and both versions are capable of capturing clear images or videos of license plates and faces.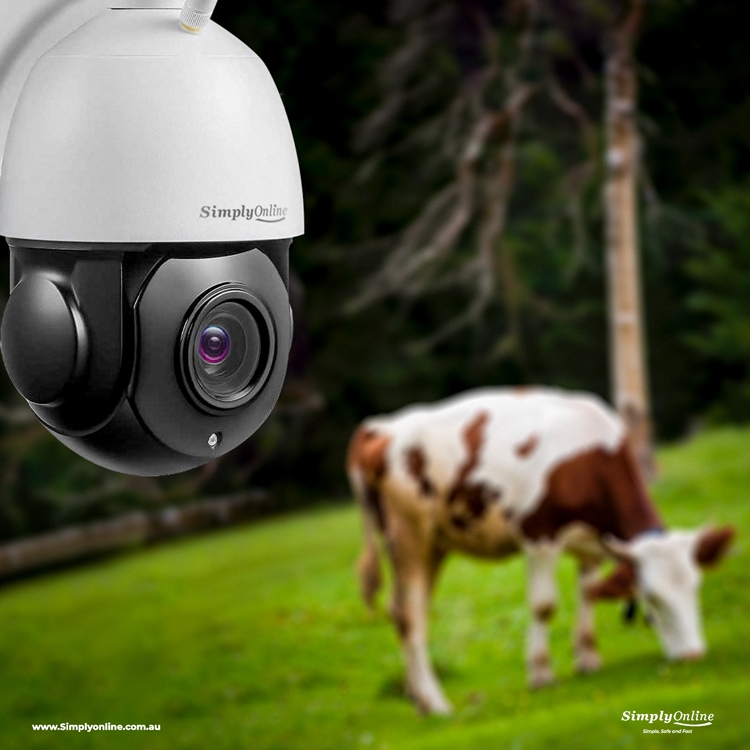 But How exactly optical zoom Wi-Fi Solar Camera works?
A Wi-Fi Solar Camera with 20x optical zoom is a type of surveillance camera that uses optical zoom to provide a clear image and can be remotely accessed using an iOS or Android device. With the phone app, you can control the camera and zoom in or out as needed.
What is the difference between optical zoom and digital zoom
Optical zoom and digital zoom are two types of zoom that are often used in security cameras. Optical zoom is a type of zoom that uses built-in lenses to magnify an image, while digital zoom is a type of zoom that uses pixels to magnify an image. Optical zoom usually results in a higher quality image than digital zoom.
Make sure the sun reaches the Solar panel on top of the camera (or external solar panel) to keep the battery life lasting longer on a single charge.
The solar panel is what collects energy from the sun and converts it into electrical energy to power the camera's rechargeable battery. If the solar panel isn't receiving enough sunlight, the battery will run out of power more quickly.
Features
Let's take a look at the top features of the outdoor solar security camera
IP65 Weatherproof
IP65 weatherproof is a common IP rating in solar/home security cameras, as it allows the camera to withstand harsh weather conditions. This makes the camera ideal for use in outdoor applications, where it can be exposed to rain, snow, and other elements.
100% Wire-Free, Place It Anywhere
The Wireless solar security cameras are 100% wire free, battery powered security cameras that can be placed anywhere indoors or out. It has an SD card for storing recordings and a wireless connection (Wi-Fi or 4G) for live streaming.
Fast and easy installation : perfect for owned and rental properties
Our solar security cameras are perfect for both owned and rental properties. They're effortless to install, and we have a step-by-step setup guide on our website.
Construction sites
One of the most common use cases for solar CCTV cameras is to provide security at construction sites. These cameras are easy to relocate, making them ideal for construction sites where the layout is constantly changing. Solar CCTV cameras provide an extra layer of security, deterring crime and helping to catch criminals in the act.
Farmlands
Wi-Fi Solar Cameras are a great way to keep an eye on your farmlands. With a Massive Wi-Fi Solar Camera, you can monitor your property 24/7. Plus, with wire-free solar cams, you don't have to worry about running electricity to them. If you're having trouble getting a good Wi-Fi connection at your farmlands, don't worry – 4g solar security cameras have got you covered. Check them out here, With a 4G solar powered security camera no wifi is needed.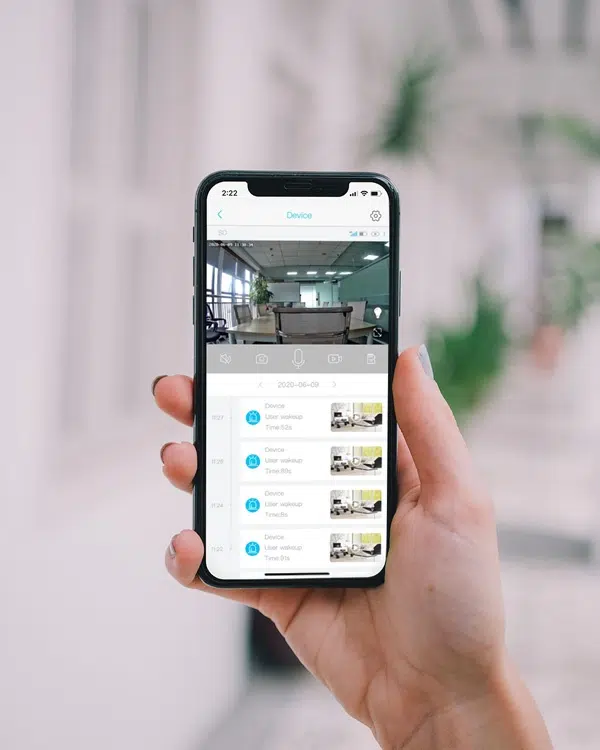 Get Instant Remote Access Anytime
With the Provided app, you can get instant remote access to your Wi-Fi Solar Camera from anywhere at any time. Simply download the app for either Android or iOS and connect it to your camera. with the help of the 1080p full HD resolution and PIR motion detection, You can then get notifications and view live footage of your home or office, or go back and review previous recordings, all wirelessly and from the palm of your hand.
Get alerted instantly of intruders directly on your smart mobile phone
When a heat motion detector on your Wi-Fi Solar Camera is triggered, you'll get an instant notification on your smartphone. This way, you'll always know when someone's trying to break into your home or property. The camera's night vision feature also lets you know what's going on, even in the dark.
Human Infrared PIR Detection
Human PIR Detection is a security feature that uses infrared technology to detect the presence of humans. When a human is detected, the camera will instantly send a notification to the user. This feature is useful for security purposes, as it can help to deter and detect potential intruders.
Two-Way Audio
Wi-Fi Solar Camera's Live playback allows you to see what is happening around your camera, but there is also another great feature that these cameras have: two-way audio.
With the power of the built-in microphone and speaker, so you can communicate with people through it. This feature allows you to deter criminals or speak with whoever is at your front door, which is really useful. For example, if you're not home you can use this feature to give instructions to the delivery person about where to leave the package.
Storage
Our cameras come with optional storage that supports up to 128GB Micro SD cards. This is plenty of room for recorded footage, which can be extracted onto a computer or hard drive. There are also subscription-based cloud storage options that can help prevent data loss and store camera footage wirelessly, both of which are useful features.
Does the camera records continue 24/7?
No, the normal Wi-Fi Solar Cameras do not have the continuous recording feature. Only the massive solar security cameras are capable of live footage 24/7. The cameras with smaller panels and rechargeable batteries need to go to sleep and awake when movement is detected. This feature also helps to reduce the power consumption of the camera, saving battery life in the long run.
Best affordable solar-powered camera
Here are the best affordable solar-powered wireless security cameras.
Where to buy Wi-Fi Solar Camera
You can buy a Wi-Fi Solar Camera online on our website. We provide support and step-by-step guides to help you choose the right one for your needs.